We are an interdisciplinary design studio creating positive social and environmental actions for corporations, governments, and communities. Our current projects involve the
Visit our archive to see our past projects.

The 54 East Project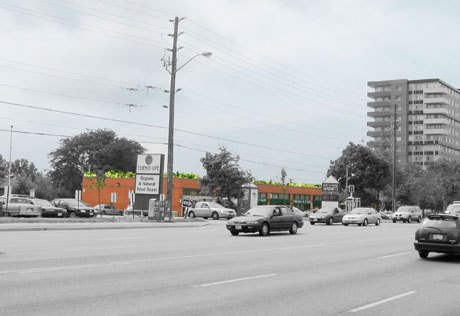 Proposed green roof for building across the 54East Project gallery.
Rafael Gomez of ThinkTankToronto had a project idea he called The 54 East Project. The project centred around the landscapes and people of Toronto's Lawrence Avenue East corridor. He wanted to document and showcase this world of strip malls, bungalows and abandoned spaces to the public. The name of the project drew its inspiration from the 54 East bus that travels the full length of this major avenue.
Rafael had a number of great ideas for what the project could be, who might be involved and what the outcomes could be. Work Worth Doing proposed to him that we put the project through a scenario planning process to open up the possibilities, to do some 'what if' foresighting and search for emergent opportunities. We facilitated the scenario process with a group made up of a film producer, a policeman, an economist, and a couple of people involved in Toronto schools.
Some of the amazing ideas that came out of the process are now being implemented: turning the flat roofs of the local strip mall into the longest green roof in Toronto, creating a 54 East record label, and doing murals that map the origins of local residents. Browse the images above to see some of the on-going results from this collaboration.

'preserving cultural heritage in Ontario' blog

A recent Globe and Mail article by Lori Mcleod talks about the need for redeveloping the urban malls in Canada (emphasis in RE). A story mentioned in the article is the Don Mills Centre, built in 1955 that is being redeveloped to become a mix of community square, enclosed by retail, office, and residential […]
Posted: October 8th, 2007 by Alex Quinto under preserving cultural heritage in Ontario.
Comments: none

The gala opening of ThinkTankToronto's 54 East Studio was held last June 1st, 2nd and 3rd, 2007 at 2068 Lawrence Ave East in the Wexford-Heights Plaza. The event featuring music and art was well received by all who attended. Wexford residents, members of the media and displaced Scarberians joined us in celebrating our grand opening.
Posted: August 2nd, 2007 by admin under preserving cultural heritage in Ontario.
Comments: none
preserving cultural heritage in Ontario

Images
See also:
Other recommended publications: